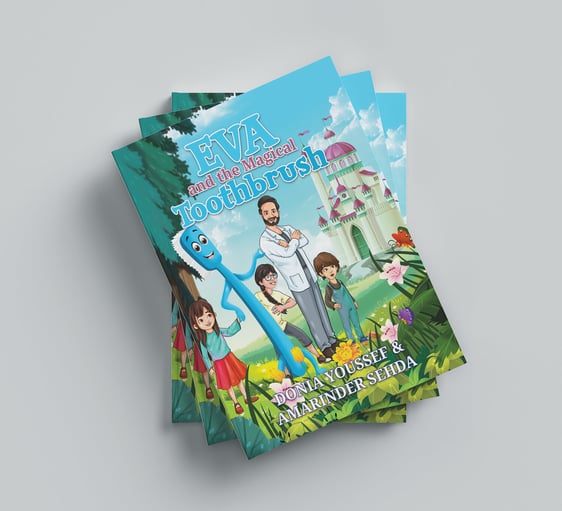 Explore a range of captivating children's stories on the Monster Series website, providing not only entertainment but also valuable coping strategies, meaningful lessons, and educational resources for young readers
Joanna Lumley praises 'The Monster in Mummy' book, which is the first in the Monster series, as an imaginative and extremely useful resource that helps parents talk to children about cancer. The book has earned high praise from other celebrities, such as Kerry Katona, and provides valuable coping skills while also sparking children's creativity and imagination."
Monster Publishing & Productions LTD
Monster Publishing & Productions Ltd is a London-based publishing house that provides a platform for people to share their stories and reach a wider audience. Led by award-winning author and entrepreneur Donia Youssef, the company offers guidance, support, and strategies for success to aspiring authors. Donia's own Monster series of books and films seeks to educate, inspire, and motivate people on their journey to success. The company is committed to providing the best possible platform and resources for success and helping people share their stories. Whether you're a seasoned author or just starting out, Monster Publishing & Productions Ltd has the expertise and experience to help you achieve your goals.
"Donia Youssef has written this remarkable book that serves at once both as a reassuring story for children and a handy resource for the adults. One of the biggest concerns women have after being diagnosed with breast cancer is how to communicate and share the news with their families, especially young children. Donia's book with its child friendly language & illustrations will make this task certainly easier. Especially poignant is the section with the suggested answers to commonly encountered uncomfortable questions. Children will find the positive/optimistic narrative on cancer diagnosis/treatment and its side effects easy to understand and relate to. The book also provides very useful information for women on how to continue feeling well during and after treatment. This extremely useful book will no doubt become indispensable to breast cancer survivors and their families alike. As a consultant surgeon dealing with Breast cancer patients on a daily basis, I strongly recommend this book to all."
MS SEEMA SEETHARAM, CONSULTANT ONCOPLASTIC & RECONSTRUCTIVE BREAST SURGEON
"The Monster in Mummy- what can I say in such a short paragraph that will do it the justice it so rightly deserves. Firstly, I wish this unique book had been written when I was diagnosed with my Cancer for it would have been invaluable for when I had to tell my young daughters that I was seriously unwell. The child's story is clear, engagin beautifully written in a child focused way encompassed by warmth and empathy & supported by vibrant and charming illustrations. Even the touch of the pages are delight to turn and it's size fits nicely into both large and small hands. For the other sections in this book they are filled with insight, helpful knowledge, information and inspiration into what the Author experienced and learned- all of which is a paramount tool for others who find themselves in similar situations. It was completely wonderful to see the lovely Joanna Lumley supporting this vital cause. As for Donia Youssef, you exude positivity and inspiration. thank you!"
"This beautiful book allows a parent to initiate a courageous conversation with warmth and confidence. A conversation that fills most parents with dread. Feeling excluded can have a life long impact for a child. That said, every parent naturally wants to protect their child from the unpredictability and threat of cancer. Donia's beautifully positioned book is written with great empathy and it empowers children to not feel overwhelmed by the monster. I would recommend it to anyone who has been newly diagnosed with cancer and also those parents where the cancer journey has returned with a less certain hope for cure."
JULIE STOKES OBE – CONSULTANT CLINICAL PSYCHOLOGIST AND EXECUTIVE COACH. FOUNDER OF WINSTONS WISH
"Donia grabs her life with renewed energy, turning trauma into power."
"Amazing! Truly inspirational and informative distinction.
"A must have for all families facing traumatic news"
Naturally we want to protect our children from fear or distress. However honest, direct communication promotes safety by being open and invites a dialogue around thoughts and feelings. A child needs to make sense of their world and openness helps prevent misunderstanding and can be empowering; allowing a child to feel trusted and can prevent them from feeling alone. Open communication through sharing allows a child to understand that the monster out there is not too terrible to comprehend.